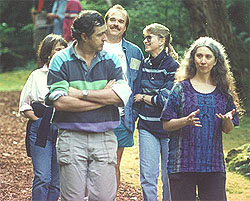 This Web site provides an introduction to the Creative Systems Personality Typology (CSPT) and serves as a forum for its ongoing development. CSPT is a detailed framework for understanding temperament differences with important applications to self knowledge, education, psychology, organizational development, and leadership. It is arguably the most sophisticated such framework currently available.
CSPT has it conceptual foundations in Creative Systems Theory, a comprehensive perspective for understanding change and interrelationship in human systems developed by psychiatrist and futurist Charles M. Johnston, MD and colleagues at the Institute for Creative Development over the last twenty-five years. CSPT's power lies in the depth at which it engages, the breadth of its scope, its effectiveness as a tool for supporting collaboration, and its direct pertinence to the kind of thinking effective future leadership will increasingly require.
Links to the various sections of this site can be found at the top of each main page and to the left. Below are brief descriptions of what can be found in each section:

Overview:  The overview section sets the stage for this inquiry.  It argues for the importance of a deep understanding about temperament differences.  And it steps back conceptually to examine what makes CSPT's contribution unique and to put CSPT within the broader context of CST ideas.  (Link to Overview)
Early-Axis Temperaments:   This section presents the first of the three major personality divisions within CSPT.  (Link to Early)
Middle-Axis Temperaments:   This section presents the second of the three major personality divisions within CSPT.  (Link to Middle)
Late-Axis Temperaments:   This section presents the third of the three primary personality divisions within CSPT.  (Link to Late)
Quick Comparisons:   This section provides some quick and fun "diagnostic" comparisons that contrast choices people of different temperaments might make.  Some examples:  preferred cars; the esthetics of homes, workplaces and gardens; religious and political preferences;  favorite magazines, books, and movies; and commonly seen bumper stickers.  (Link to Quick Comparisons)
Video Presentations:   This page provides video presentations of the basic personality style material.  (Link to Video Presentations)
FAQ:   This section addresses further important distinctions and observations in a FAQ format.  Included are questions such as the etiology of temperament, the relationship of temperament and gender, temperament and ethnicity, other variables besides temperament that affect personality, and the particular pertinence of CSPT to the kinds of leadership and more general understanding the future will more and more require.  (Link to FAQ)
Development:   CSPT links directly with Creative Systems Theory's framework for understanding human development.  This characteristic  makes it especially useful for teachers, psychologists, parents and others who spend time with people of different ages.  This section examines temperament differences in children and their implications for learning and for meeting developmental challenges. (Link to Development)
Relationships:   Here we look at the implications of temperament differences in relationships of various kinds:  love, friendship, work groups, organizations, leadership relationships, communities, and even more broadly.  CSPT helps support  communication between temperaments and the effective addressing of temperament-related conflict.  In addition, it provides guidance for supporting creative collaboration—and, of  particular importance, the kind of creative collaboration that will be more and more needed for addressing the critical cultural challenges before us.  (Link to Relationships)
Commentary:  The Commentary section includes short written bits, essays, and lengthier pieces either provided by us, sent in by you, or linked to other sources that we think are particular pertinent to questions of temperament and CSPT's particular perspective. (Link to Commentary)
Diagnostics:   "What type am I"  For important reasons that should become clear, CSPT does not conform readily to simple written diagnostic tests.  But there are a lot of ways to come at making the needed distinctions.  This section presents a few of the most useful. (Link to Diagnostics)
Compare and Contrast:   Here we compare and contrast CSPT with other frameworks for understanding human difference from psychology, education, and business. (Link to Comparisons)
Contacts and Resources:   How to contact us by e-mail, mail, or phone.  Also news on upcoming learning opportunities and additional learning resources.  (Link to Contacts and Resources)


The CSPT web site is one of series developed  by the Institute for Creative Development and reflecting its work. ICD is a center for advanced leadership training dedicated to clarifying and supporting the kind of understanding and leadership a vital future will require. From 1984 through 2003 it existed as a Seattle-based "bricks and mortar" institution. Today its work is web-based and worldwide. The Institute's home site can be found at www.creativesystems.org. More detailed reflection on CST and the concept of Cultural Maturity can be found on Dr. Johnston' s author page www.CharlesJohnstonmd.com.